Key Takeaways
Global spend on marketing technology continues to rise.

There is a wide variance between the potential of martech and what most firms actually achieve.

By focusing investments on tools that work together, data integration and training firms can maximize their return on technology investments.
The estimated global spend on marketing technology eclipsed $120 billion in 2019 according to research by WARC and BDO. The increased spend on products — like customer relationship management (CRM), marketing automation, webinar/event management, customer data platforms (CDP), demand side platforms (DSP), content management systems (CMS) and more — continues the acceleration that has been seen in this space over the past decade as companies and consumers embrace the value of the customer experience.
This spending growth means the average company outlays nearly 30% of its marketing budget on technology today. And that doesn't include the resourcing needed to operate this technology. Just ask any marketer or salesperson who spends a significant portion of each day in marketing automation, CMS or CRM systems how important these tools are to productivity and you'll quickly understand the value of these systems in your organization. And while these systems are looked at as costs in most companies, in actuality they are more likely to be revenue drivers (through increased sales) or cost savers (allowing fewer people to do more), which means a good martech strategy can be one of the most important priorities for any company.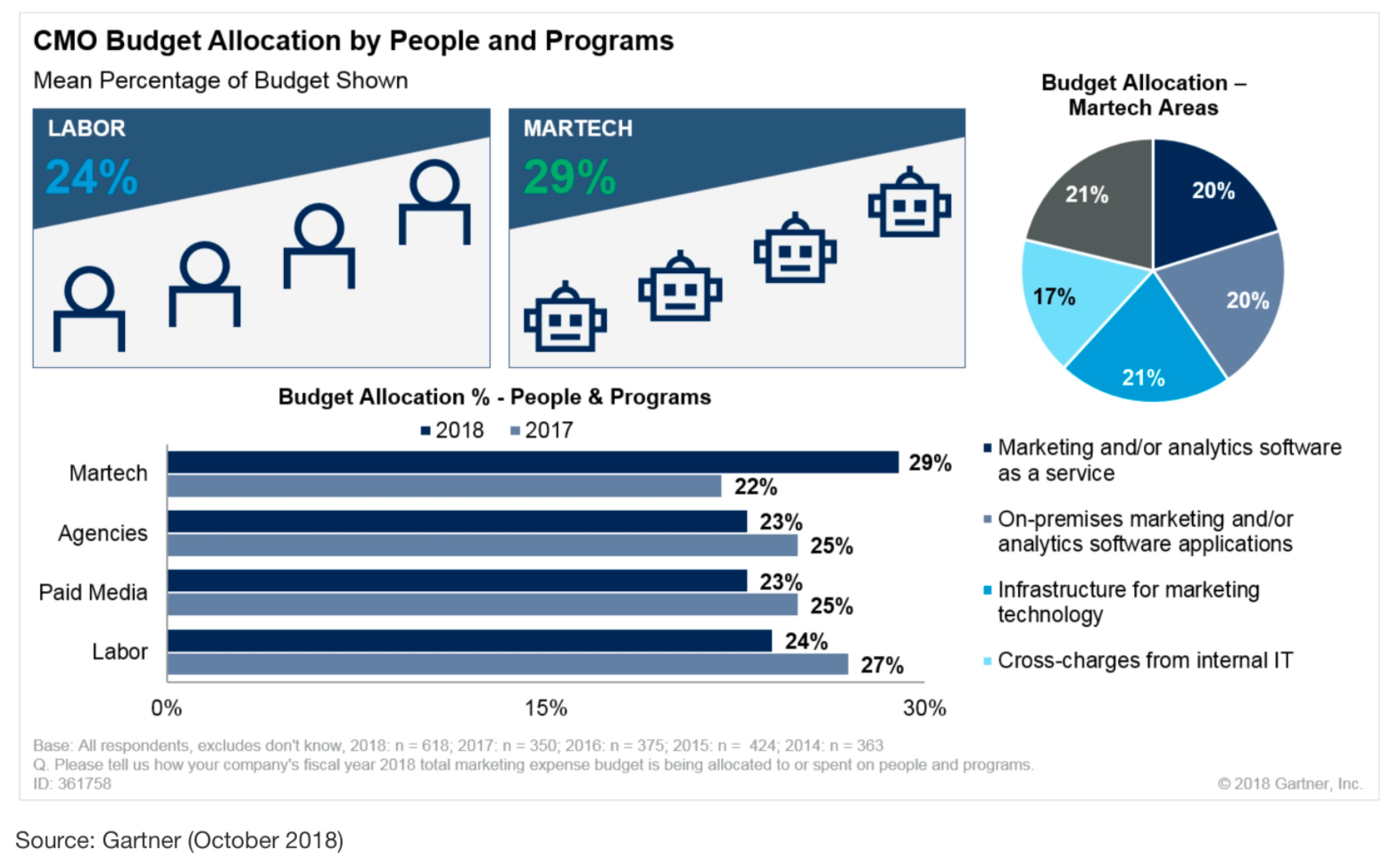 Unfortunately, due to the sheer number of providers in this space (more than 8,000 at last count) and the fact that martech can sometimes sit awkwardly between marketing, technology, sales and other functional units, marketing technology can fail to live up to its potential. In some organizations martech can even feel more like something that constrains growth instead of enables it. If even some of that rings true, it doesn't have to be that way. We've found the following three principles can help clients maximize the impact of marketing technology stack.
Look for complementary tools.

Integrate your data pipeline.

Focus on tool maximization.
Complementary Tools
One of the greatest assets of marketing technology today is the amount of innovation that both startups and established companies are bringing to the space. This has created an enormous growth of tools and that competition for wallet share has led to some really innovative products. Many of the larger companies — the Oracles, Salesforces, Microsofts and Adobes of the world — have been forced by smaller firms to innovate and consolidate by buying and integrating new technologies into their ecosystems.
While in many ways this has been good for consumers, in other ways it has been confusing. Decision-makers are forced not only to evaluate the best products but also how they fit into their overall technology strategy. They also must forecast how those tools will continue to evolve to meet their ever-changing needs.
We've found that one of the most important decision criteria when buying a new system is how it integrates with the rest of a firm's technology stack. While all systems say they are compatible, look for native integrations whenever possible, which means the vendor will be responsible for maintaining the connection between systems instead of your technology team.
Second, look for add-ons within your platform ecosystems to use configuration instead of customization whenever possible. The more out-box features you can use limits your risk when you invariably add other systems in the future and as new software features are released.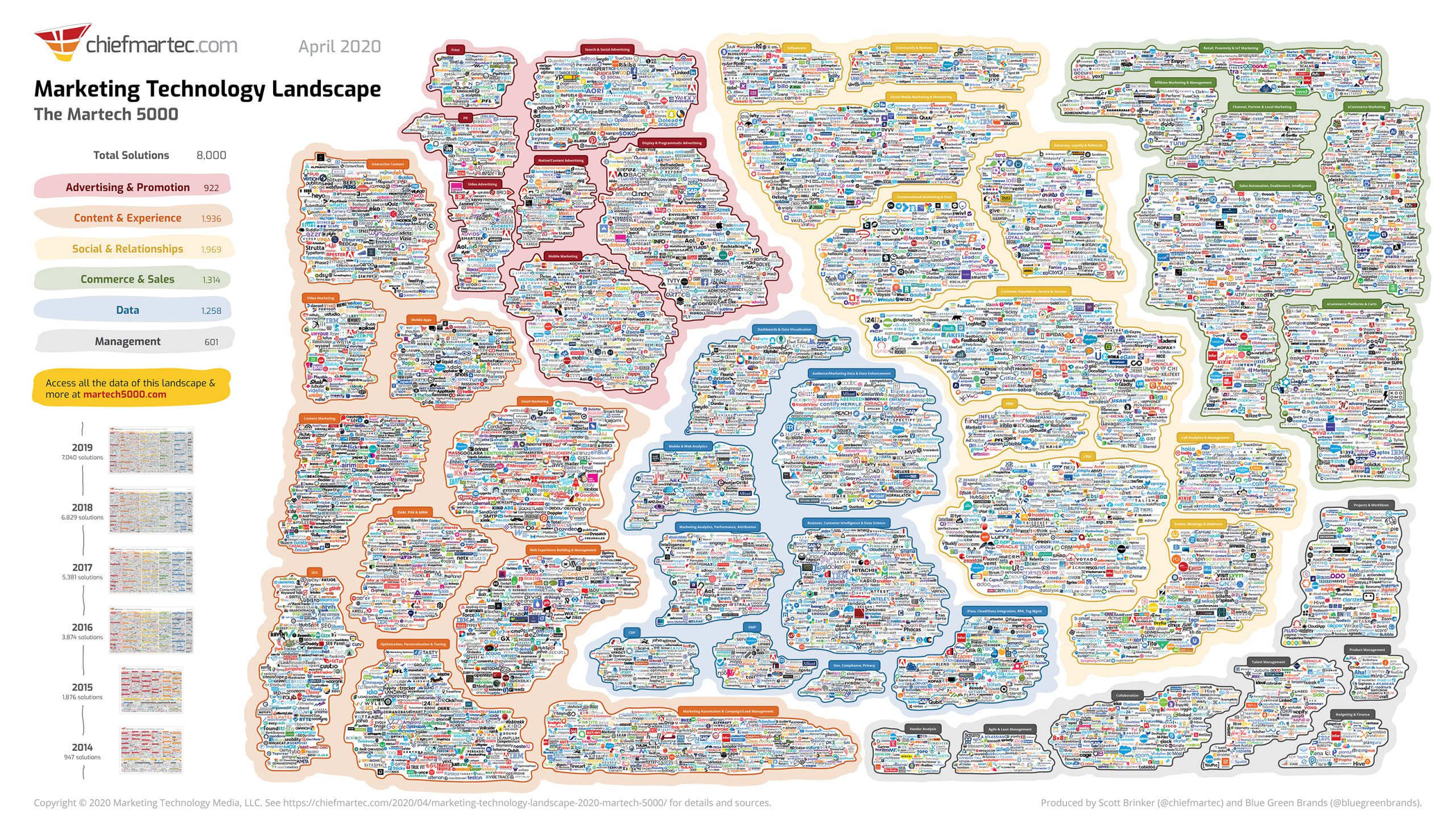 Data Integrations
Before selecting or implementing new tools, do your homework to understand how data will flow and map between systems. As a marketer, how many times have you wanted to run a campaign to target a specific segment of customers only to find out that you either couldn't get the data or were forced to utilize manual processes to capture the dataset?
With many companies employing countless software as a service (SaaS) systems and multiple databases, data mapping can be messy and time consuming. However, coming up with a data governance strategy that includes standardized ways to collect, aggregate and layer data is one of the most beneficial and underappreciated projects an organization can invest in.
A good analogy might be a football team investing in a quality left tackle to protect its high-priced investment (the quarterback). It doesn't matter how skilled a quarterback is if he is constantly getting sacked or, worse yet, is injured and unable to play due to poor protection. The same is true for marketing technology. You can invest in the best tools, but if they don't work with other systems and you don't have a solid data foundation your investment will never reach its potential.
Tool Maximization
Many marketing leaders report a skills gap between the talent they need to reach their goals and what their current workforce offers. In fact, two-thirds of companies report that they don't have the right skills or talent to effectively use marketing technology.
We've found that purchasing and integrating marketing technologies alone only gets an organization so far. To truly maximize the benefits of these investments your staff must become experts on not only the technology but also how these tools transform processes for your users.
Training leads to tangential benefits like higher employee engagement and succession planning. In fact, Coursera found that 87% of people learning for professional development report career benefits, like a promotion or a raise. And when your employees succeed, so do you and your company.
However, while most vendors offer training or conferences on their platforms, they are expensive — between fees, travel costs and more. They also solely focus on that vendor's product(s), not how those martech tools fit into an organization's larger framework. That's where bringing in a trusted partner, like Zirous, can benefit an organization's martech strategy by tailoring workshops to your company's specific needs.
These three approaches will help position your company to get the most out of its marketing technology investments. Zirous, a technology data and insights company established by leading communications, IT and sales experts, is here to help you every step of the way.
We speak the language of business and technology to create customer-centric organizations. Contact us today to learn more.