Key Takeaways
First-party data should be your most powerful source of segmentation criteria.

Customer data atrophies without enrichment so one of the best investments you can make is using a third-party company to keep your data accurate.

Use preference management to glean insights on your consumer's interests and to target them with the right messages.
The phrase "it's not what you know but who you know" is generally attributed to networking for career advancement. It refers to someone being in the right place, at the right time, to make the right connection that leads to a new opportunity.
When put in a data-driven marketing context this same principle applies to segmentation, which is arguably the greatest predictor of success within any campaign. Market segmentation is defined by Wikipedia as the "activity of dividing a broad consumer or business market, normally consisting of existing and potential customers, into sub-groups of consumers (known as segments) based on some type of shared characteristics."
This type of customer targeting strategy is crucial in the ability to personalize messages that resonate with consumers. Better segmentation impacts the revenue generated in a campaign by that appeals to that set of consumers.
Microtargeting also positively impacts the cost side of the equation as it limits the amount of messaging — think media spend — to only those users likely to convert. This means a good customer targeting strategy creates a 1-2 punch that increases the return on the investment, which is the holy grail of marketing.
With every firm chasing net-new business it's not surprising that, according to GreenBook, the top 50 consumer research firms accrued over $28 billion dollars of revenue in 2018. If you are anything like me your inbox and news feeds are filled with companies promising "qualified" leads that include customer- or business-level data to help with customer targeting. 
While many of these firms undoubtedly do a good job of providing new prospects it comes at a cost, which generally ranges from a few cents per contact to up to $1 or more per contact. In addition, any marketing list is unlikely to be fully accurate, with the database decaying by 20% or more each year on average, according to HubSpot.
From our experience there are several key strategies that your team can employ in order to maximize your marketing results using segmentation. They are: 
Maximizing first-party data practices.

Customer preference management.

Data enrichment.

Customer engagement best practices.
Maximize First-Party Data Practices
After its employees, arguably the most valuable asset any company has is its customer data. So why do so many companies struggle to take advantage of customer data? It most likely stems from siloed marketing data within the organization — sales might own the CRM system, marketing owns the ad systems, IT owns the e-commerce system, the customer service team owns the service tool — and the sheer number of software as a service (SaaS) applications needed to manage customer communications.
The best way to aggregate this data is by using a customer data platform that uses client-side tagging and server-side integrations to bring your customer interactions into a centralized system where a master customer record is created. From there you can build out segments that can be activated dynamically in campaigns as well as provide a dashboard to view key units that interact with customers — namely marketing, sales and finance.
While CDPs are one of the hottest new marketing tools, they are not all built equally. When looking for the right platform make sure that the tool is able to meet all aspects of the customer data lifecycle. These include the ability to:
Build in connections with many data sources to collect customer activities.

Standardize data from multiple applications into a consistent format.

Transform and enrich activities into a master customer record.

Integrate with customer facing platforms.

Activate campaigns dynamically in all marketing channels.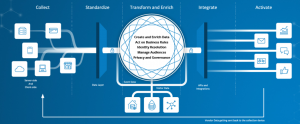 Image: Tealium Customer Data Hub pictured above. We are proud to be a certified Tealium partner.
Customer Preference Management
The second key for customer segmentation success is to manage and respect customer communication preferences. In many countries there are legal ramifications of not adequately managing consent, but even if those do not apply the ability to manage preferences is key to creating positive customer experiences.
From a segmentation standpoint it is important to allow users to subscribe to your content directly while also tracking activities behind the scenes to glean insights as to what interests them. By combining these two approaches it is more likely that you will communicate relevant information to consumers that deepens their relationship with your company.
On the flip side, if a customer decides that he or she does not wish to receive your content anymore, it is important to have an unsubscribe process. This can let users opt out of specific categories instead of unsubscribing from all communications.
Data Enrichment
Limited or inaccurate customer data in your systems is likely one of the most frustrating things for your salespeople, customer service reps and marketers. Customer data goes stale the longer it is in your database, and many teams have different definitions around what customer data should be entered, even within the same company. Because of this, a best practice is to invest in a third-party data enrichment service to keep your customer data database current.
There are many services on the market, like D&B, ZoomInfo and Leadspace, that provide this functionality. While they can be costly, there are different tiers to match a service with your needs. Be sure to complete an ROI analysis of the costs versus benefits for these tools, which should include a sample enrichment rate of some actual customers so you feel confident that the service will give your team value.
Most of these tools will have integrations with common marketing automation and CRM systems. Be sure to use these native automation and CRM integrations so your customer data is constantly updated for those team members working directly with customers.
Customer Engagement Best Practices 
The final key to good customer segmentation is to build out workflows that help customers navigate through your content in a customer journey that makes sense for them. 
From an email standpoint most marketing automation systems do a nice job of creating logic within a campaign to redirect audiences to the next best step in the campaign based on interactions.
On the chatbot side of the equation tools like Drift allow you to automate the customer experience using pre-built questions to direct users to relevant content and book appointments with your sales team.
Last, web personalization and testing tools allow you to test designs, messages and workflows to maximize conversion rates. By using personalization based on customer data like location, new versus returning visitor and past purchase history you can present customized content that speaks to your customers.
By following these four strategies your company will increasingly be able to implement customer segmentation and targeting, reaching the right customers at the right time. Zirous, a technology data and insights company established by leading communications, IT and sales experts, is here to help you every step of the way.
We speak the language of business and technology to create customer-centric organizations. Contact us today to learn more.