Key Takeaways
Define who owns each technology in your martech stack.

Consider embedding technology professionals within the marketing team.

Align success metrics for everyone responsible for marketing results regardless of their department.
In 1992, the book "Men Are From Mars, Women Are From Venus" was published to great fanfare and became the highest selling book of the decade with nearly 15 million copies sold. In the book the author talks about how men and women communicate and monitor the give-and-take within relationships.
Nearly 30 years later a similar story could be published about the relationship between technologists and marketers. Faced with different priorities and constraints, the potential for conflict between these teams has never been higher. With the proliferation of software as a service (SaaS) applications for marketing, CMO technology spend has already surpassed CIO spend in many firms, according to Gartner.
That trend, called "shadow IT," has only sped up the past three years.
Webopedia.com defines shadow IT as "information technology (IT) applications and infrastructure that are managed and utilized without the knowledge of the enterprise's IT department." 
This implementation beyond the visibility of the technology team has made shadow IT a dirty term on the IT side of the house in most companies. Regardless, many marketers' pursue shadow IT due to perceptions that internal technology partners shortchange customer experience from a limited understanding of the buyer's journey.
While many companies have increased the lines of communication between business units, a gap clearly still exists.
Working in the marketing technology landscape for a number of years, we've found there are some important steps a company can take to foster a better working relationship and fulfill its most important customer experience promises.
1. Set Ownership of Key Business Applications
The balance between systems owned by each unit and those shared between units is a critical success factor in every organization. Clearly defining roles and responsibilities is a must.
This includes strategic decisions (e.g., purchasing SaaS applications), connecting tools across systems (e.g., integrating CRM with marketing automation tools and financial reporting systems) and post-launch maintenance and enhancements. Figure 1 shows how this could work within an organization.
Fig. 1: Ownership of MarTech Activities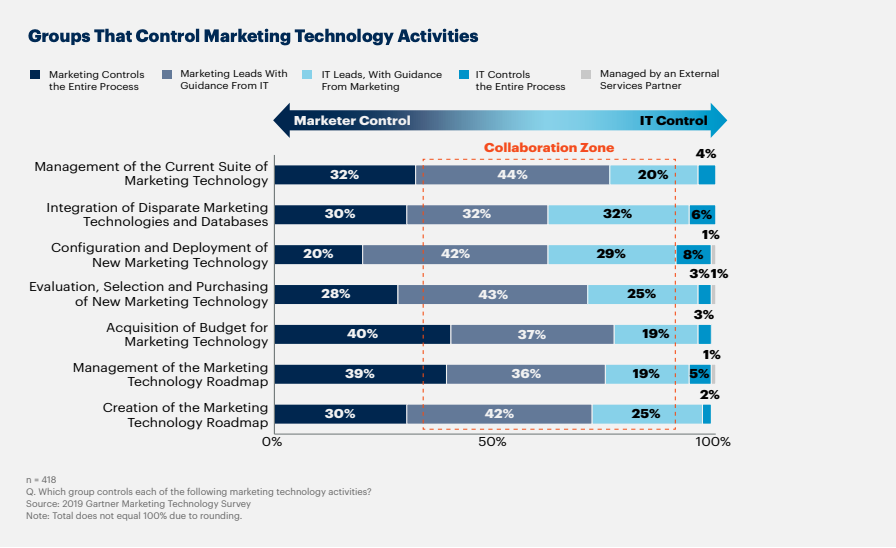 Source: Gartner 2019 Marketing Technology Survey 
A few general rules can be used to define ownership:
Does this activity require configuration (marketing) or coding (IT)? 

Can we control permissions and roles using a centralized system like Active Directory? That helps eliminate potential failure points without having to follow a standard sprint cycle to configure a field in a marketing application.

Do our systems have native marketing automation integrations or solutions that can be installed within a platform? The SalesForce App exchange or Oracle Cloud Marketplace are excellent examples of ways to extend functionality of core systems using low or no code methods.
2. Formalize the Role of Technology in Marketing
With different scopes and infrastructure, it is difficult for marketing and technology teams to fully understand and execute on each others' needs.
But embedding a team of production technologists with a technology leader within marketing (utilizing internal staff or a technology partner like Zirobi) lets them liaise between IT and marketing to maintain standards and respond to marketing needs in real time.
Figure 2 shows what marketers need most from their marketing technology stack. An embedded marketing technology team helps address these challenges while paying dividends for both your customers and your bottom line.
Fig. 2: Martech Stack Capability Improvement Opportunities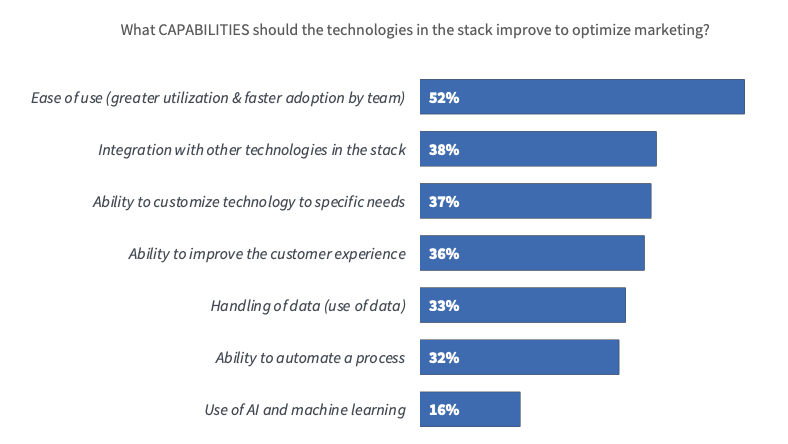 Source: Ascend2 MarTech Stack Optimization Survey
3. Align Performance Objectives and Results
Any business benefits from aligning performance objectives — especially when success crosses multiple functional units. And in the digital age there is no way around having marketing automation integrations with technology, sales and e-commerce to drive customer experience and operational outcomes.
A technical team that understands both the business goals and outcomes and has the ability to accurately measure and report on results is critical to setting goals that drive business outcomes through functional teams. Figure 3 shows how vastly different the results are for companies that do this well versus companies that struggle.
Fig. 3: Customer KPI Alignment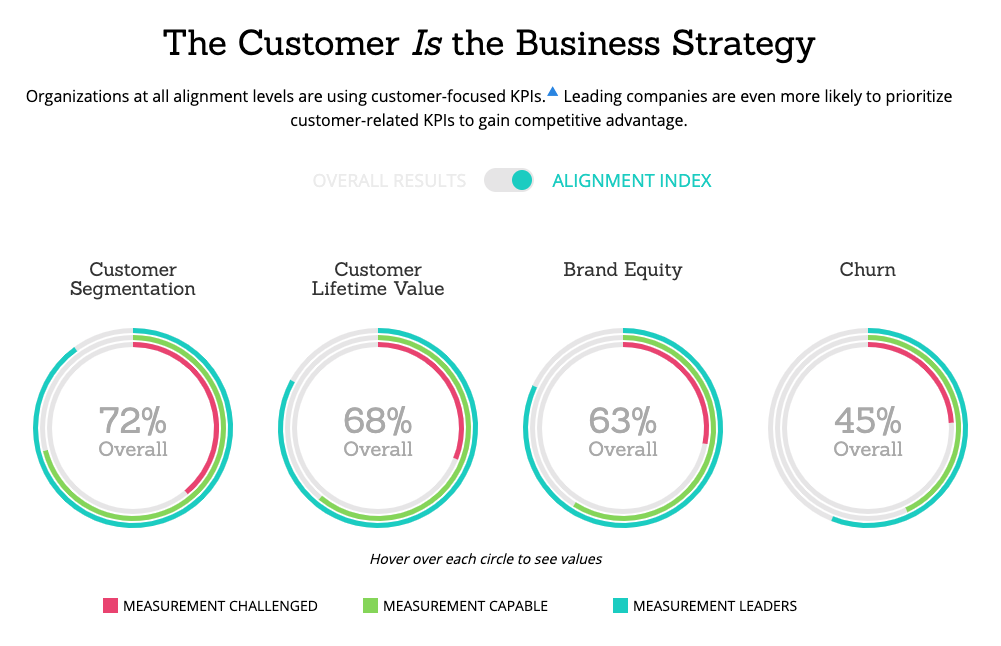 Source: MIT Sloan Strategic Measurement Infographic
Embedding a technology team within marketing will enable you to align goals, optimize your customer-facing applications and drive results.
This might be a fundamental shift in thinking about how technology and marketing work together, but these three tactics will help modernize your marketing technology strategy. Zirous, a technology data and insights company established by leading communications, IT and sales experts, is here to help you every step of the way.
We speak the language of business and technology to create customer-centric organizations. Contact us today to learn more.