Story Highlights
Define the roles, responsibilities and overall revenue goals.

Employ effective lead scoring.

Create relevant content for each stage in the customer's journey.
Your company has a problem. Revenue forecasts are off for the third consecutive quarter and costs are creeping up. The CEO calls a meeting with her leadership team to find some answers.
The CMO speaks up. "I'm as confused as you are. Our digital advertising and content marketing have never been better. My team tells me leads are up 15% this year. If the sales team could convert more of those leads, we'd see significant revenue growth."
The CEO looks over at the global sales leader, who has a frustrated look on her face. "It's true, we've gotten more leads from marketing this year. But most of those leads are pretty poor quality, and my team has to work pretty hard to find a few needles in a haystack. But even when we do get a good lead, the sales collateral doesn't match our offerings, so my team is left to fend for itself."
Maybe they're both right.
Maybe they're both wrong.
And maybe this sounds like a real challenge facing your organization.
This misalignment between sales and marketing is a very real problem resulting in decreased revenue, poor customer experiences and higher marketing costs. A recent Marketo study conducted with Reachforce found that half of sales' time is spent on unproductive prospecting, with 80% of marketing leads ignored. That means not only wasted time but also wasted dollars.
Fortunately, there's a solution. There are three proven methods to optimize sales funnel tactics to maximize efficiency, reduce costs, increase pipeline and supercharge growth:
Align on leads between sales and marketing.

Utilize lead scoring.

Tailor communications to the customer's journey.
Formally Align on the Lead Process
According to a study by CSO Insights only 42% of respondents said that their company had an agreed-upon definition of a lead. Given this confusion about what qualifies a lead as sales ready, it's not surprising to find frustration around the topic of lead quality.
Sales and marketing leadership must collaboratively identify the criteria that constitute a marketing qualified lead and when to assign it to sales. Marketing should then continue to nurture prospects that don't meet these criteria with the goal of moving them through the funnel to become sales leads.
First, go through each product or service, considering demographic (title, company revenue, number of employees, etc.) and engagement (attending events or webinars, visiting the website, downloading whitepapers, clicking on emails, etc.) metrics to determine what types of prospects your sales team wants to see. You should also employ data analytics to see how the perceptions of your sales team match actual lead and opportunity data.
Second, success metrics need to be aligned between sales and marketing. This means sharing key financial targets — like the number of marketing qualified leads, the percentage of leads that qualify into an opportunity, the amount of pipeline generated, the closed-won rate and ultimately the top-line revenue number.
Last, the two units must agree on a customer hand-off process. Here's an example:
Once a lead is created, sales either accepts or rejects it within a specified time frame.

If accepted, a sales rep attempts to contact the lead within an agreed upon period and at least a certain number of times using various methods (phone, email, social, etc.).

If rejected, marketing evaluates leads to learn why they weren't productive. Should they be put into a re-engagement campaign? Or are they simply not a fit?

Marketing tracks sales progress to determine if the marketing messages and nurture streams adequately prepare prospects for a sales engagement and adjusts the campaign as needed.
Employ Effective Lead Scoring 
Lead scoring has been around for several years and nearly every sales rep or marketer agrees that effective lead scoring pays dividends. However, there is generally a large gap between what companies hope to accomplish with lead scoring and what lead scoring actually achieves. There can be many reasons for this gap, such as a lack of data integrations, inaccurate modeling or scoring the wrong activities.
The first step to setting up lead scoring — after defining criteria for marketing qualified leads — is to determine which data points should be scored and how to weight them. The data points that offer value might be different for each business depending on sales strategy, various buying channels and growth strategy.
Next you must determine where lead scoring is going to take place. For one company this may be in its marketing automation systems; another organization might do this in its customer data platform/data lake or even in its CRM. Are you going to employ a user interface for lead scoring or build this yourself?
Then you need to clean the selected datasets and aggregate them into the tool so your scoring engine can use them and automate the process to send these leads to sales. This also includes a feedback loop from sales back to the tool so the system knows which leads actually generated value and which didn't.
Finally, the model must be evaluated and updated. You can either do this manually or use machine learning to dynamically adjust the value of each attribute.
Tailor Communications to the Customer's Journey
A world-class B2B demand generation machine moves prospects through the customer journey smoothly, adding value at every step. Customers' expectations differ based on where they are in the process. The company that best articulates how it meets a need generally earns the sales.
Let's walk through the customer journey with a prospect to get a feel for what this entails.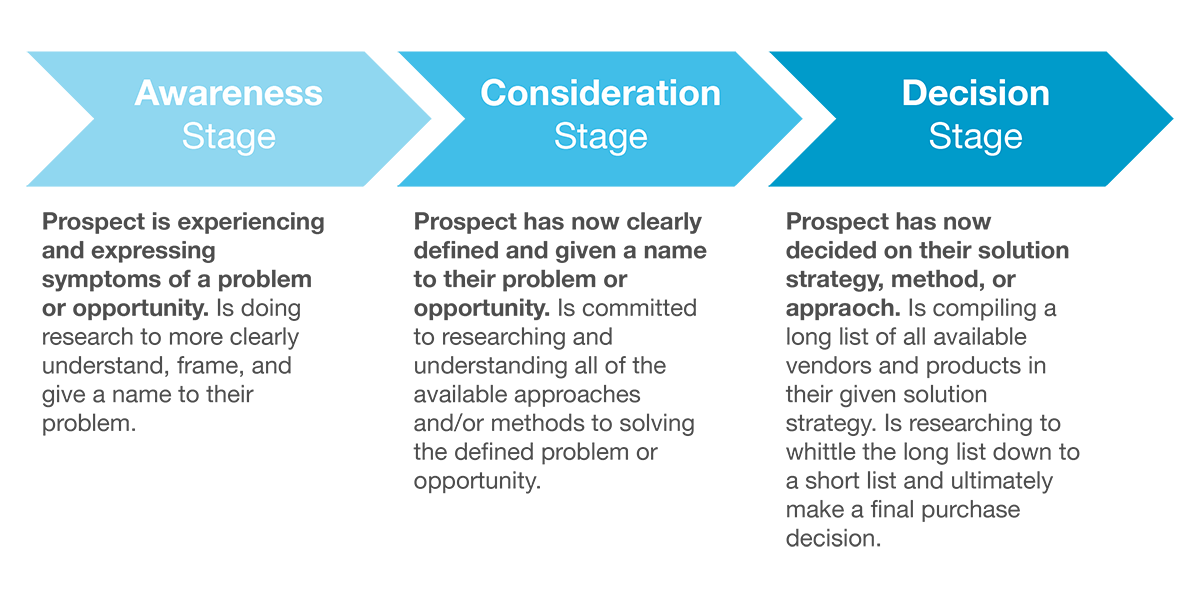 Source: HubSpot Buyers Journey
Janet's son is turning 10 in a few weeks; he's been dropping (not-so-subtle) hints about a superhero cake, but Janet has never been much of a baker and she doesn't know where to buy something like that. She might ask friends for bakery recommendations or look online for bakeries to narrow her list of potential options and learn what each has to offer.
The content relevant for Janet differs depending on where she is within the buying process.
In the awareness phase helpful content might come from a paid search ad, social posts, a web search or from voice search from her phone. In the consideration stage she'll look for specific website content, including photos and product descriptions, to help her better understand her options. In the decision phase she may want to speak with a salesperson to discuss pricing and customization and know how far in advance the bakery will need her order. All of these elements factor into Janet's ultimate buying decision.
In consultation with sales, the marketing team should understand each stage of the journey and the value proposition throughout the buyer's journey. Marketing can then develop appropriate content for each step of the journey. The distribution of content will be shared between marketing, sales and, in some cases, customer service.
The good news is that we know how to successfully achieve sales and marketing alignment. Zirous, a technology data and insights company established by leading communications, IT and sales experts, is here to help you every step of the way.
We speak the language of business and technology to create customer-centric organizations. Contact us today to learn more.