Moving your organization to the cloud is a large undertaking. Key decisions like which applications should be moved, which platform(s) to use, whether to lift and shift or rebuild, and dozens more are critical to the success of the migration. But beginning a cloud adoption project brings two other key considerations to mind: whether or not your organization can handle the task internally, and if not, who the best partner for the job is.
Why You Need a Partner
Expertise
A comprehensive understanding of infrastructure — on-premises, hyper-converged infrastructures, cloud, and more — is crucial to creating a successful, holistic cloud migration strategy and executing it without daily business disruption. An experienced partner brings  advanced knowledge that your team may simply not have time to build. 
In fact, Forbes identifies electing internal resources for a cloud migration as one of the top three reasons these projects may ultimately fail. They state, "It is impossible for people to create a thorough, comprehensive cloud implementation plan when they haven't done it before."1
What's more: In an O'Reilly survey of 590 cloud practitioners, managers, and executives from around the world, nearly 50 percent cited lack of skills as the top challenge their organizations faced in adopting cloud infrastructures.2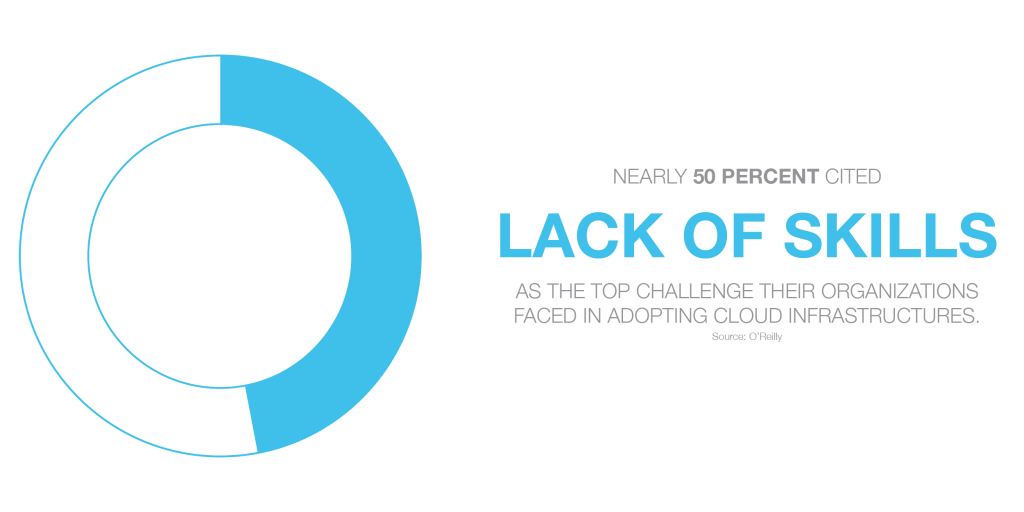 Strategy & Planning
Though the hands-on aspects of a cloud migration project are very technical, the project itself should be very strategic for your organization. An objective third party is vital to align business and IT leaders to create a strategy and plan that achieves each team's goals. 
In a survey of 276 IT professionals, 42 percent cited a lack of planning as the ultimate reason their cloud migration efforts failed.1 Cloud migrations encompass more than just infrastructure; they're the basis for the future success of your strategies around security, data flow and analysis, system integration, and more. A qualified partner can help you tie each of these pieces together how it makes sense for them and their supporting teams.
Time & Investment
In the age of the digital transformation, IT teams are buried up to their necks in tasks — and new ideas are knocking on the door every day. That's simply the nature of technology today, and to stay competitive, answering the door to these new ideas is critical. 
But does your team really have the time to answer the continuous demand of technological change while handling a sophisticated cloud migration project on top of daily tasks and maintenance? Is your business comfortable with the huge resource investment that comes with an internal cloud migration project?
One survey found that 96 percent of companies who were currently moving to the cloud said it was taking more time and money than they expected. Of these folks, 56 percent cited competing IT projects and changing priorities as the biggest reason for this.3 (And in case you've already forgotten about how important expertise is, 62 percent said the projects were harder than expected — or completely failed.) Companies of today's digital world simply can't afford to lose this time and money — and ultimately their competitive edge.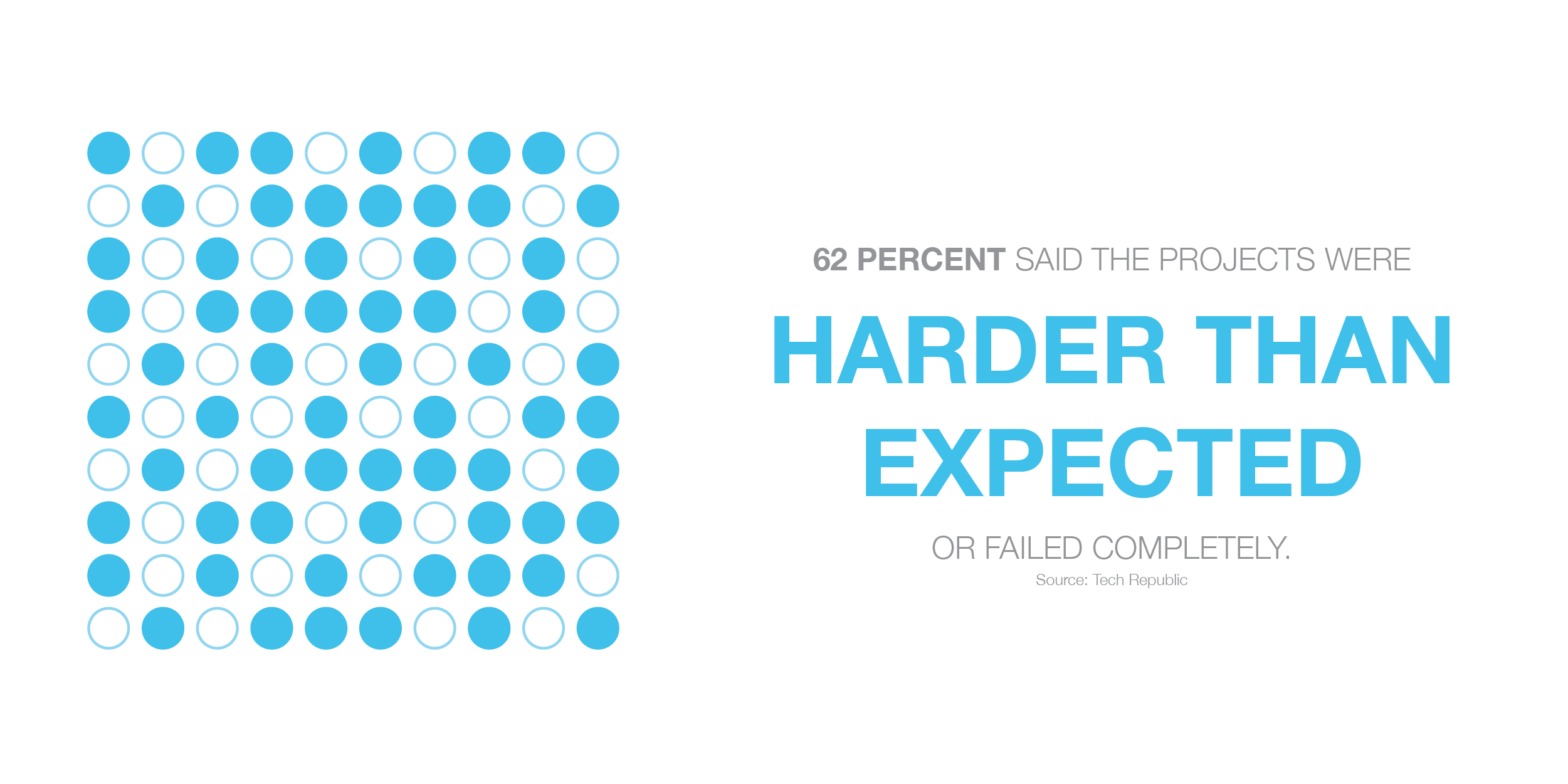 Mentoring & Training
Getting to the cloud is the first step. Understanding how to use and optimize the cloud is another beast entirely. A strategic partner is an important resource for your team, not just your technology. A partner brings expertise and experience that can enhance your team's knowledge through training to enable their success and leadership of your new cloud environment. A proper cloud migration can be considered a cloud adoption — fully leveraging the cloud as a strategic component of your business — and it will take training and somewhat of a culture shift to be successful.
— 
Bringing in an outside partner's expertise is a win for the success of your cloud adoption project and for your team as a whole to ensure needs are met, goals are achieved, everyday business goes on as usual, and your team is ready to drive your business into future success.
Why That Partner is Zirous
Expertise
With over 30 years of IT experience, Zirous holds invaluable infrastructure and cloud expertise. Our team has helped numerous organizations embrace the cloud and set it up to drive success in all aspects of the business. We're partnered with and certified in Microsoft Azure, Amazon Web Services, and Oracle Cloud — not to mention experienced in dozens of additional systems, such as VMware and Hyper Converged Infrastructure systems, that can optimize your cloud to drive your bottom line.
This diverse understanding gives us the ability to empower you with the right solution for you — not making your applications fit into a technology just because we want to sell it — just like a round peg doesn't fit into a square hole. In addition, our expertise in data analytics, enterprise integration, identity and access management, and development strategies and tools means you get a solution that's ready for whatever direction your business takes next. You'll not only get to the cloud, you'll be able to optimize and automate its capabilities for your business.
Strategy & Planning
This is where Zirous shines compared to other providers. And you don't have to take our word for it — our clients told us two of the top three reasons they love working with us are that we develop a deep understanding of their business (sometimes even deeper than their own), and we aren't afraid to challenge the status quo. We look at your organization holistically and put business and strategy first, so you can rest assured that technology will be built specifically to achieve your goals.

Zirous' planning process is second to none. Our cloud migration Catalyst program takes a head-first dive into your current systems and processes, analyzes them compared to your goals and available solutions, and builds a roadmap of our recommended phases for a successful cloud adoption strategy for your company. No stone is left unturned, and no goal is left unsatisfied.
Time & Investment
Zirous partners with you to achieve your goals first and foremost; we don't have hidden agendas or goals that contradict yours. As a strategic partner, we work to create an implementation that aligns with your timeline and budgetary goals, driving future return on your investment. This includes prioritizing cloud adoption along with other existing projects and operational activities, so that resourcing needs and business goals are not compromised along the way. Our Catalyst process lays out a roadmap with detailed timelines and investments in both technology and implementation.
Mentoring & Training
If you're wondering what the third of our clients' top three reasons for loving to work with us is, it's that we fit company culture. Our team becomes a part of your team, and it's our combined success that drives your long-term success. As part of Zirous' cloud adoption program, we work with you to elect and thoroughly train members of your team to become a cloud enablement team for your organization — a team who can learn the ins and outs of your new environment and be equipped to lead the rest of your team — and your business — into the future with cloud. 
Let's Work Together
Let's achieve your goals together. Our cloud team is ready to help you adopt the cloud, no matter what stage you're in at the moment. It's never too soon — or too late — to bring a strategic partner on board. Get in touch with us today if you're ready to start exploring the opportunities of a cloud migration project at your company.
---
1https://www.forbes.com/sites/sungardas/2015/11/17/why-cloud-computing-implementations-typically-fail/#78d9ea9c4b46
2https://www.oreilly.com/radar/how-companies-adopt-and-apply-cloud-native-infrastructure/
3https://www.techrepublic.com/article/73-of-cloud-migrations-take-a-year-or-longer-report-says/