Marketing automation has become an essential tool for companies looking to automate their marketing efforts and enhance their customer experience. As stated by Quixy, implementing marketing automation solutions led to an increase in conversions for 77% of marketers. As companies continue to expand, the opportunity arises to add new marketing platforms to their repertoire. While it is exciting, transitioning to a new marketing automation system requires a lot of organization and business awareness to ensure a smooth implementation to a marketing automation platform. In this blog post, we will explore what to expect when making the transition to a marketing automation platform, specifically Marketo.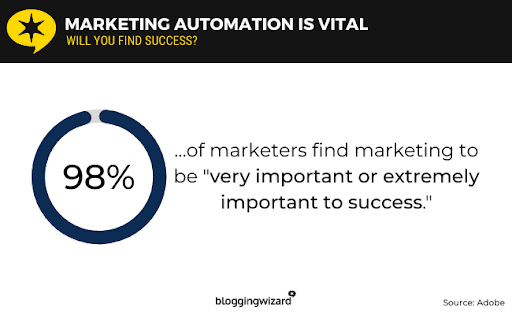 https://bloggingwizard.com/marketing-automation-statistics/
Software Decision

Planning and Preparation

Align with Implementation Team

Training

Assets

Data/Integration

Automation

Launch
Before making the transition to a new marketing automation software, you would have needed to decide what software that will be. The sales process is a very fun and exciting process, but that does not make this important decision any easier. As you may have learned throughout the process, there are plenty of options on the market; which does not make your decision any easier.  We would like to start by congratulating you on making the great decision to select a best-in-class automation tool like Marketo. We understand that the sales and decision process is never easy, and can be stressful at times. However, you can rest assured as our experts here at Zirous believe that Marketo is the best marketing automation system that money can buy. 
While we understand that is a bold statement, here is why we are confident in it. Marketo stands out to us as the premier marketing automation system due to its exceptional range of features, robust functionality, and user-friendly interface. The best feature of the tool is it's lead management, as the tool empowers the marketing users to streamline their campaigns and drive tangible results based on customer interaction. The lead management functionality enables businesses to capture, nurture and convert leads effectively and efficiently. Another great feature is the segmentation. The segmentation capabilities allow marketers to effectively target their audience to ensure the right content reaches the right customers at the right time. Lastly, the seamless integration with other marketing platforms and CRMs. Marketo natively integrates with Dynamics and Salesforce, which are the two most commonly used CRMs today. This integration allows for marketo to be a seamless and efficient marketing ecosystem to satisfy all of your marketing needs and future wants. Marketo is the go-to choice for businesses seeking a powerful, scalable, and result-driven marketing automation solution. 
The first step in your transition to a new marketing automation software is planning and preparation. This process requires your team to identify your current marketing processes and workflows. Once you have gathered this information, your team will have to decide what packages and integrations you will need with marketo. Marketo has many extra packages for purchase. One big thing to consider is that your contract endings will need to line up with the completion of your marketo setup. Discuss with your sales representative to ensure you have purchased everything your organization needs to succeed. As for integrations, marketo integrates with numerous varieties of software that you will need to make sure are discussed in scoping calls. Having a clear understanding of what your organization needs to operate will make the transition process go smoothly.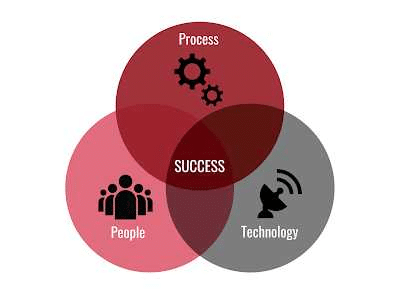 https://www.allnewbusiness.com/people-process-technology/
Once you have everything organized and ready to move to Marketo, it is then time to have a meeting with the implementation team to discuss the project plan. This meeting usually lasts about an hour, consisting of conversation about project requirements and expectations. The consultant will go over how the project will be executed based on your organization's functionality requirements from the system. Once that meeting is complete, they will send over an IT Setup email with all information and action items needed to set up your instance. This email contains information about cnames, DKIM/SPF, and  munchkin tracking code. The faster the it setup phase is complete, the faster the rest of the implementation can begin.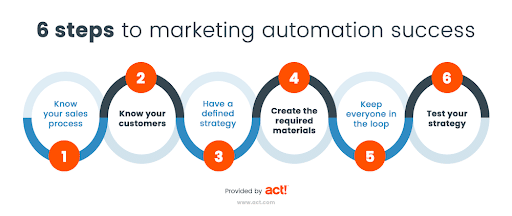 https://www.act.com/what-is-marketing-automation/
Once your instance is set up, it is then time to learn how to use it. Your team will need to align on what learning strategy is the best for how you learn. Whether it is training videos, live interaction, or a mix of both; it is important to know what will set your team up best for success. Zirous has a great training program that is split up into 7 one hour sessions that allow for questions to be answered throughout the presentation. Also, in these training sessions, it is encouraged that the client is the one operating the computer so that the material sticks more efficiently. 
Next step would be to align with your team on what assets you will want to have within Marketo. The platform has the ability to host numerous types of assets, the main ones being: Emails, Landing Pages, Forms, and Images. Your implementation specialist will help you make the transition into Marketo, by building these assets for you within the application using Marketo syntax in the html to make it editable on the front end. However, the implementation specialist needs to know what assets your team needs. It would be best to be prepared with figma files or mock ups of what you would like the emails and landing pages to look like, along with what forms you will need and the fields for each. This will greatly speed up the process, as the specialist will be able to get started on these as soon as possible. Overall, this process will take a week or two depending on the complexity of your assets along with any scope changes along the way. 
Data migration is also an essential part of transitioning to a new marketing automation system. You will need to ensure that the integration is working correctly, and the data is syncing between the systems in the way you would expect it to. You will need to migrate all existing data, such as: contacts, accounts, opportunities, or any other information needed to successfully run your marketing campaigns. This part of the process is time consuming, however it is very important that it is done correctly the first time. A mess up in the transformation of data can have a large impact on the overall health of your database, and end up taking longer to fix the issue than it took to cause it. You will also need to make sure that your new platform integrates with your existing tools such as your CRM, social media engagement tool, survey too, and many other integrations. 
In regards to your most powerful and important tool, your CRM, Marketo can also integrate with CRMs that are not native as I mentioned previously in this article. To do so, we suggest using a powerful middleware tool called Vertify. Zirous also has expertise implementing Vertify, which is a great tool to get your non-native CRM speaking and mapped correctly to Marketo. The final data option, if you do not have a CRM, would be to handle your data loads via imports. You can either manually import the lists as a CSV, or set up an API to pull that CSV into Marketo automatically. Overall, each option is great, it just depends on your company's specific use case. 
The step after asset creation and data migration is the planning and building of your campaigns. In marketo, campaigns are the engine that makes everything run. Your team will need to decide on what campaigns are most important to get deployed right away. It is also important to consider what campaigns will be best to have support on, while others may not require said assistance. 
Once all of your campaigns are created, it is finally time to test and launch your new marketing automation platform. Testing is vital as it ensures everything you have created is up to the standard you are expecting. The first thing to test would be your assets, specifically your emails. There are many email clients that you will be sending to, and each read the html in your email differently. Use a software like Litmus to test on all of these clients to ensure that all customers will receive the same looking email. You will also need to test your workflows. We suggest creating test users that are internal employees to test the automations. If the automation works for your employees, you can feel more confident using the same on your customers. 
Once the project is complete, it will be time for you to spread your wings and fly! However, upon the completion of the project, if you would like to continue to have a talented Zirous Consultant on your team, we can of course make that happen for you. We offer expert serviced contracts where you can either buy a bucket of hours or pay as you use them. This will keep the ZIrous Consultant on your team to continue to further advance your use of this grat marketing automation system. We all know technology is frustrating, and know that there is always an error or issue that arrises even when it was previously running smoothly. Having the ZIrous consultant on hand after the project will ease the stress and risk when said issues do arise. 
In conclusion, transitioning to a new marketing automation system is an exciting process, however it will take a lot of proper planning and preparation work to ensure it is running smoothly. By following the steps laid out in this post, you will be able to feel confident that your platform is customized to meet your organizational needs and your team is equipped with the necessary skills to continue to use it effectively. With the right tools, strategy, and processes; you can take your marketing efforts to the next level by utilizing such a powerful tool in your new marketing automation system.
While bringing Marketo into your company isn't as exciting (and as stressful) as bringing home a new born, preparation is key to being a successful owner of Marketo just like it is to being a new parent.  Zirous, a technology data and insights company established by leading communications, IT and sales experts, is here to help you every step of the way. We speak the language of business and technology to create customer-centric organizations. Contact us today to learn more.