Velocity scripting is a powerful tool that can be used in marketing emails to enhance their effectiveness and improve the customer experience. In this blog post, we'll explore the marketing, strategic, and flexible benefits of using Velocity scripting in marketing emails and the additional benefits of having Zirous implement Velocity scripting for you.
Marketing Benefits:
Personalization: Velocity scripting allows you to add personalized content to your marketing emails, such as the recipient's name or location. This can increase the relevance of the email and improve its engagement rate.
Example: A clothing retailer can use Velocity scripting to add the recipient's name to the subject line and body of their promotional emails. The retailer can also use the recipient's location to display weather-appropriate clothing options.
Dynamic Content:
With Velocity scripting, you can display dynamic content that is tailored to the recipient's preferences, behaviors, or interests. This helps you to deliver a more relevant and engaging experience to each customer.
Example: 
One of our clients in the Medical sector asked us to create email footers that show the correct email signature based on who owns that person's account. We created a dynamic section of the footer that shows the first name, last name, email, and photo of the correct sales owner. We also have clients that do something similar in newsletter campaigns that will show the correct contact information based on dynamic content based on the interest data associated with the end user's email address. We allow the clients to create one email, and that email will dynamically change its content based on the end user's data.
Velocity Email Template: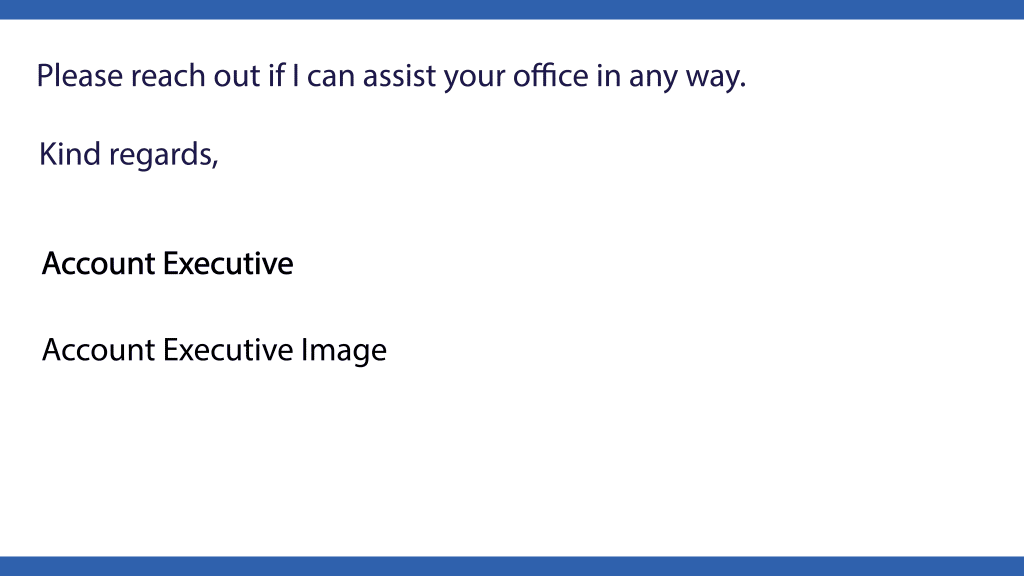 Sent Email With Test Data: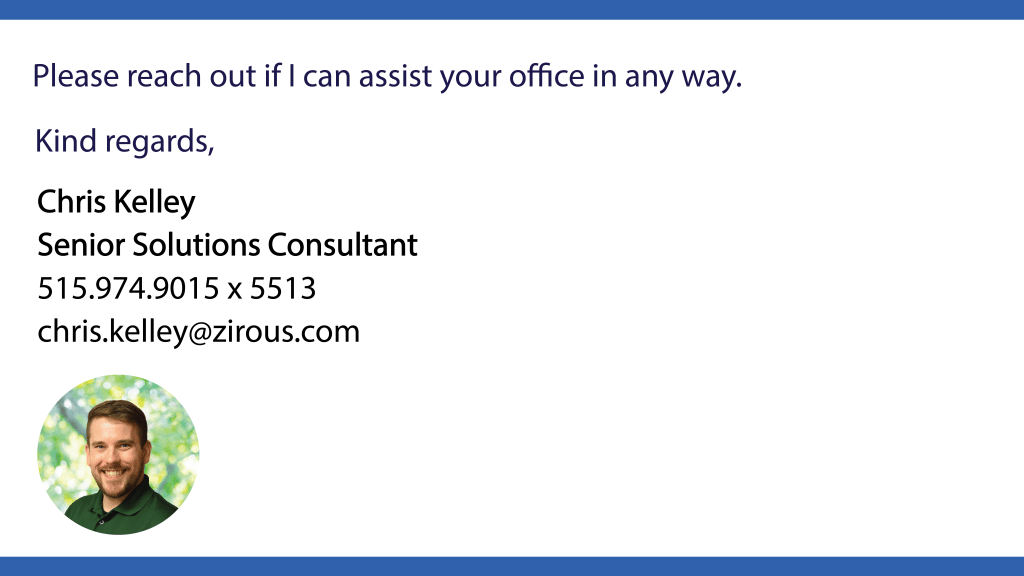 Strategic Benefits:
Improved Segmentation: Velocity scripting makes it easier to segment your email list based on specific criteria, such as purchase history or interests. This allows you to deliver targeted content that resonates with each group of customers.
Example:
A travel company can use Velocity scripting to segment their email list based on the recipient's travel preferences, such as beach vacations or adventure travel. The company can then send targeted emails to each group, highlighting travel destinations and packages that align with their interests.
Automated Workflows:
Velocity scripting can be used to automate complex email workflows, such as abandoned cart reminders or win-back campaigns. This saves time and ensures that each customer receives the right message at the right time.
Example:
An online retailer can use Velocity scripting to automate abandoned cart reminders. When a customer adds items to their cart but does not complete the purchase, an automated email can be sent reminding them of the items left in their cart and offering a discount to complete the purchase.
Zirous helped a B2C company update their Marketo email send capability by dynamically generating quote content after a form fill. In order to access this company's unique custom data objects, we used Velocity scripting to access and dynamically show the correct information for each email. We were also able to set up automatic email confirmations based on their form fill.
Velocity Email Template:

Sent Email With Test Data: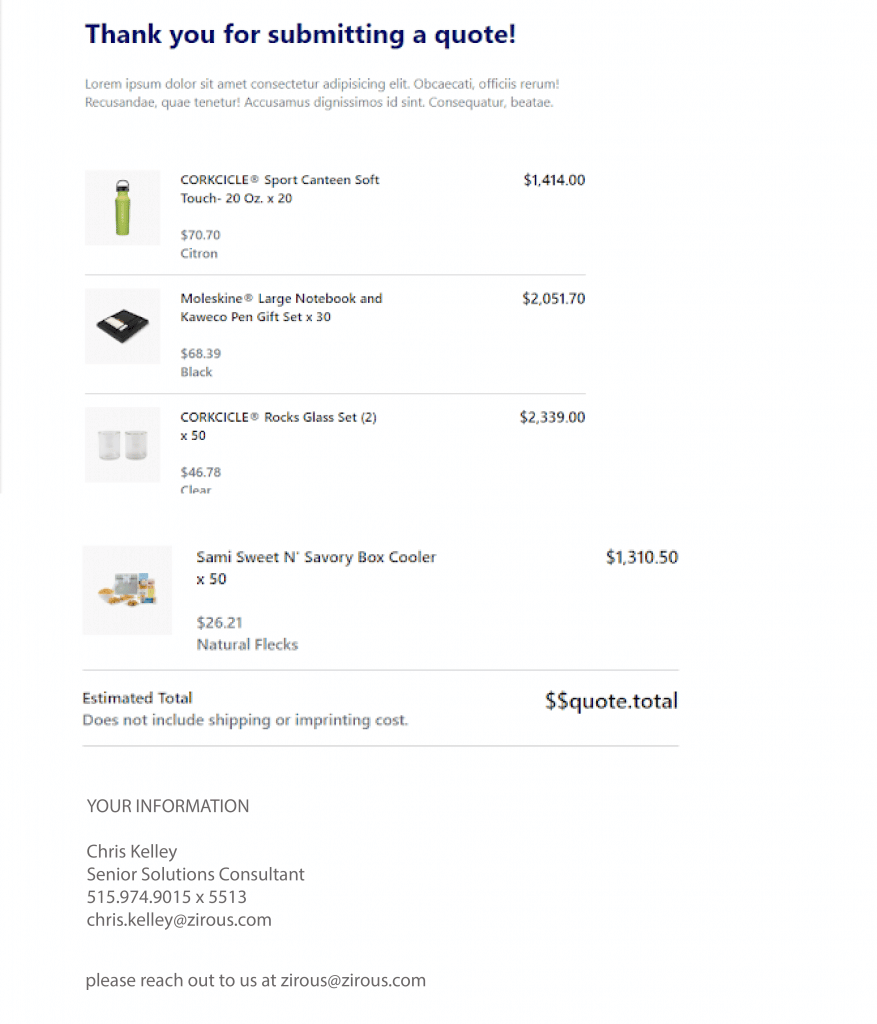 The Velocity scripting fits anywhere in the email, in this case augmenting the email template with specific order data. Clients have asked for exact updates all the way to fully generated emails.
Flexible Benefits:
Easy Customization: Velocity scripting is a flexible and customizable tool that can be adapted to meet the specific needs of your marketing campaigns. You can easily change the content, design, or targeting of your emails without having to start from scratch.
Example:
A restaurant can use Velocity scripting to create custom emails for different events, such as Valentine's Day or Mother's Day. The restaurant can easily switch out the email content and design to match the occasion, without having to start from scratch each time.
Compatibility:
Velocity scripting is compatible with a wide range of email marketing platforms and can be integrated with other tools, such as CRMs and analytics platforms. This makes it easy to implement and manage your marketing campaigns.
Example:
A financial services company can use Velocity scripting to integrate their email campaigns with their CRM. This allows the company to pull in customer data, such as recent transactions or account balance, and use it in their email content. The integration also makes it easy to track and analyze the performance of their email campaigns.
Zirous has helped all of our Marketo clients understand and implement campaign and email analytics. Together we have shown our clients how powerful and impactful Velocity scripting can be by comparing the before and after analytics of implementing Velocity in their marketing campaigns. On average, by adding personalization and exact client data per interaction, Salesforce confirms nearly one fourth of marketers achieved higher retention and a spike in revenue higher than 20% due to personalization.
Additional Benefits of Working with Zirous:
Expertise: Zirous is a team of experts in Velocity scripting and has a deep understanding of the technology and how it can be used to support marketing efforts. By working with Zirous, you can be sure that your Velocity scripting implementation will be executed with precision and expertise.
Customized Solutions: Zirous offers customized Velocity scripting solutions tailored to meet the unique needs of your business. They will work with you to understand your goals and design a solution that is optimized for your specific needs.
Improved Efficiency: By partnering with Zirous, you can streamline your Velocity scripting implementation and improve your overall marketing efficiency. They will handle the technical aspects of the implementation, freeing up your time to focus on other aspects of your marketing strategy.
Dedicated Support: Zirous provides dedicated support for your Velocity scripting implementation. This means that you have access to a team of experts who are available to answer questions, provide guidance, and resolve any issues that may arise.
Scalability: As your business grows, Zirous can help you scale your Velocity scripting implementation to accommodate your changing needs. They will work with you to ensure that your solution remains efficient and effective, even as your marketing campaigns become more complex.
In conclusion, Velocity scripting is a valuable tool for marketers that offers a range of benefits, including personalization, dynamic content, improved segmentation, automated workflows, easy customization, and compatibility with a wide range of platforms. By using Velocity scripting in your marketing emails, you can deliver a better customer experience, improve engagement, and drive more conversions. By working with Zirous to implement Velocity scripting, you can benefit from their expertise, customized solutions, improved efficiency, dedicated support, and scalability. With Zirous, you can ensure that your Velocity scripting implementation is executed flawlessly and that you are able to take full advantage of the marketing, strategic, and flexible benefits of Velocity scripting.