Gone are the days of laborious copy and pasting into various content management systems, (CMS systems), for content distribution. Meet our trusted partner, FeedOtter. Our client's have seen tremendous success from our implementation of this product when paired with the award winning best in class marketing automation system, Adobe Marketo.
Triumphant marketer's establish the processes, technology, and needs of their customers. That's exactly what Andy Theimer did in 2016 when he started FeedOttere. With content marketing on the rise and no way to automate the distribution of content, Andy saw a need that could advance content marketing. Finally, marketers could elevate blog and article distribution through automated emails ready to be dripped out to subscriber lists. 
Zirous + FeedOtter + Marketing Automation
FeedOtter makes it painless and as hands-off as possible. They even offer a built-in library of templates that are great for testing and proof of concepts. For larger companies, FeedOtter works with them to incorporate their existing templates with FeedOtter tokens so that the content displays in the right location. Depending on the template and any technical considerations, customers can be up and running with the platform in as little time as an hour.
But, not all use cases are simple. That's where Zirous comes into play.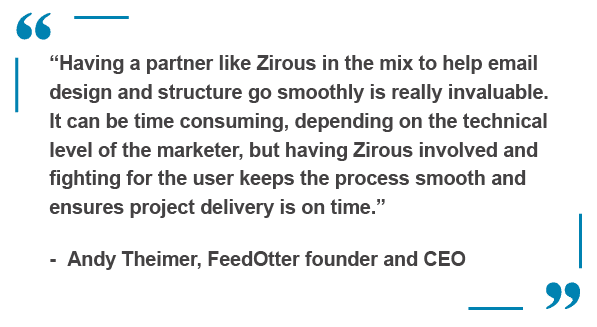 Zirous VP of Marketing Technology Services concurs on the value of the partnership and said that Feed Otter fits a key gap for many of Zirous' customers. "The ability to align content marketing with email marketing is paramount to our client's success," Schulte said. "Feed Otter integrates seamlessly with Marketo by Adobe to bring web content directly into newsletters in a way that is unparalleled. This unleashes the best-in-class automation power of Marketo while allowing (our customers) to manage superior customer's experiences with their brand. 
Use Case 
A client recently approached Zirous with a need to automate their content sharing. This particular client competes in the magazine publishing industry. This means they have hundreds of hot stories they need to blast to their subscribers everyday! Before Zirous presented potential solutions, their newsletter specialists were spending hours copying and pasting the stories from the RSS Feed into an email template. With several newsletters and millions of subscribers, this often meant the newsletter specialists were putting in hours on the weekends and stressing to meet deadlines. Not to mention, multiple brands were using a variety of Marketing Automation Platforms creating a disconnect between user journeys, preference centers, and ease of use. It became clear their top priority was to cultivate a unified system using resources like Zirous, Adobe Marketo, and FeedOtter.
Overall, the business requirement was to pull the hot stories off the website, condense them into attention grabber headlines, stuff them into well branded email templates, and automate how often the subscribers received the content. Zirous and FeedOtter met that challenge. 
Solution 
Utilizing FeedOtter, the client was able to have multiple RSS content sources organized in one place. They imported customized HTML for their email templates. FeedOtter has prebuilt email templates readily available or using custom templates they will tweak the code to be compatible with their RSS technology. FeedOtter utilizes the Marketo API to create Email Programs and Email Assets. Within Marketo, the marketing team selected their audience of newsletter subscribers. From there, FeedOtter clones the Email Program with the preselected audience and sends it every morning. The simplification has already freed up extra time for the newsletter specialists to focus on better strategies. FeedOtter's Curated Newsletters tool gives the marketing team even more creative control. When they'd rather custom build a newsletter with hot stories, sponsored messages, and books of the day now they can easily drag and drop. The Curated Newsletters allow for multiple RSS content sources, custom email templates, the ability to edit article descriptions if needed, and adding hand picked articles. The functionality works similarly when hitting the Marketo API, but you get added functionality for scheduling control and publishing new issues. On top of all of that cool tech, FeedOtter also has the ability to automatically append UTM parameters. One area where Marketo lacks for frontend marketing users, FeedOtter was able to develop a simple solution that saves the newsletter specialists extra time. Now, when clients have tools like Google Analytics they can ensure their newsletter links are using a precise UTM value structure and all sources are being tracked.
Result
In a few short months, the client has transitioned off a handful of other Digital Marketing Automation Platforms, completed a dedicated IP warming, and seen huge results with their deliverability and engagement. In an average week this past month, they sent 8,627,426 emails with a 98.6% deliverability rate. Their open rate continues to climb, recording 22.5% in that same week.