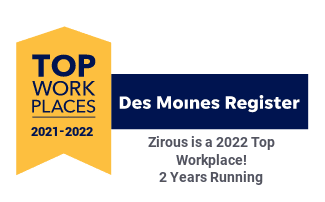 West Des Moines, Iowa, September 22, 2022 – Zirous has been awarded a Top Workplaces 2022 honor by the Des Moines Register Top Workplaces 2 years in a row. Zirous placed in the top three out of 64 companies in the small business category. This award is based solely on employee feedback gathered through a third-party survey administered by employee engagement technology partner Energage LLC. The anonymous survey uniquely measures 15 culture drivers that are critical to the success of any organization: including alignment, execution, and connection, just to name a few. Additionally, this year Zirous received a special award in the "New Ideas" category honoring the companies ability to generate new ideas and foster growth. 
"During this very challenging time, Top Workplaces has proven to be a beacon of light for organizations, as well as a sign of resiliency and strong business performance," said Eric Rubino, Energage CEO. "When you give your employees a voice, you come together to navigate challenges and shape your path forward. Top Workplaces draw on real-time insights into what works best for their organization, so they can make informed decisions that have a positive impact on their people and their business."
Zirous attributes this win to their employees for making Zirous a top place to work. Jenni Hipwell, VP of People and Culture at Zirous, gave insight on the company culture, "At Zirous each team member plays a role in creating a welcoming environment that is full of learning, collaboration, and fun. Being recognized as a Top Workplace in Iowa is a tremendous honor and highlights the amazing culture we have all played a part in building."
Last week, members of team Zirous attended the Des Moines Register Top Workplaces awards ceremony where it was revealed that Zirous ranked 3rd!
"We are very proud to be recognized as a Top Workplace in Iowa. At Zirous, our team is our priority by focusing on each other's professional growth and overall wellbeing" said Jenni Hipwell, Zirous VP of People and Culture.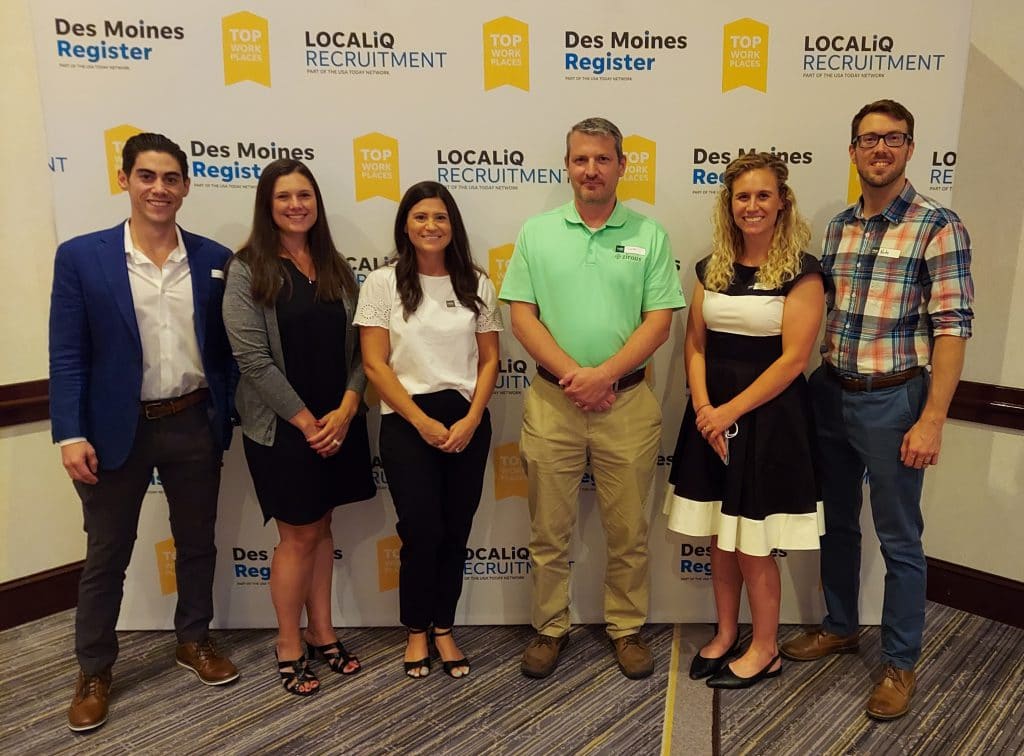 Zirous has provided IT solutions to our customers for 35 years. Our ultimate goal is to improve customers'​ business processes by leveraging their business data and pairing it with cutting edge technologies. Our seventy-five employees have an average tenure with Zirous of nine years. Our team is the very best and it shows.