Key Takeaways:
"It takes a village" applies not only to raising children but also to how every person in your company should have a part in maximizing the value of every customer.

Customer interactions with your sales team, guided by your CRM system, are just one of many customer touch points that should be part of your customer relationship strategy.

Leveraging strengths of each employee, department and tool while giving insight into every customer touch point is what creates organizational synergy.
Recently, while speaking with a group of marketing and technology leaders about the value of customer data platforms, one marketing leader remarked to me that he felt that his company didn't need that technology because they had recently invested in a new CRM system. 
His company had selected one of the industry-leading CRM platforms, which is irrelevant other than that it made my counterpoint more prescient. We have a good relationship so I asked if his company sent emails to customers, had a customer service team, directed prospects to its website or ran digital advertising. He said they did all of those things.
I replied, not trying to be flippant, "Well then, how is your CRM capturing those activities for your company?"
As you can expect he didn't have a good answer to that question. This is not unlike many who struggle with the challenge of how to best take advantage of first-party customer data to create a best-in-class CRM system in 2020, which is one of the most valuable assets that a company owns.
If "it takes a village to raise a child," as the African proverb says, then the same can be said of customer relationship management where many systems must manage interactions with a customer. This includes primary systems like CRM, but just like in the village where teachers, neighbors, grandparents, friends and mentors all help raise children, your customers' relationships are managed through other platforms besides CRM. 
To continue the analogy further, successfully raising children takes parents (CRM system) but also many other community systems (marketing automation, customer service, ad tech platforms and content management systems). Even more importantly, it takes a community to bring all of society together and allow each member to flourish.
In business that community is a customer data platform or CDP, which takes activity data from many systems and organizes it in a fashion that creates a 360-degree consumer perspective. Then a CDP connects that profile to every other system so you can take actions in real time no matter which system or which team is interacting with a customer.
Before we continue to outline the best practices of customer relationship management, let's take a quick step back and define what each system is and what it does best.
CRM
A CRM system is a tool, used primarily by sales teams, that catalogs customer interactions with clients and prospects. The tracking of relevant interactions throughout the sales process helps the company better understand its potential revenue pipeline while enabling its employees to navigate through the different stages of the sales cycle. 
According to Salesforce the value of a CRM stems from its ability to "help sales focus on your organization's relationships with individual people — including customers, service users, colleagues, or suppliers — throughout your lifecycle with them, including finding new customers, winning their business and providing support and additional services throughout the relationship."
Marketing Automation
Your marketing automation system is the tool used to scale this journey for each customer across your entire customer portfolio. While email is the primary channel used for these nurture programs, marketing automation isn't just a system that batches and blasts emails. It should harness customer data based on customer interactions to create messages relevant to users. Marketing automation systems have the ability to capture leads, score those leads and then, via a direct integration with the CRM system, be able to pass these leads to your sales team.
Customer Service
These systems track customer support tickets and service issues for users in attempts to solve any problems and to handle service recovery. In addition, similar systems help with the onboarding process. Many of these systems can be bundled with CRM systems on the same or similarly integrated platforms.
Customer Data Platforms
At its foundation, a CDP is a data-as-a-service infrastructure that unifies known and unknown customer data and persists customer profile and other data, from any internal or external source, legally and securely into a single database with a comprehensive view of all customer activities or behaviors. Those activities are then given rules-based attributes to create personas in real time that can be activated for any customer-facing communication in every customer channel. This data can also be utilized for analytics, reporting and data science, including machine learning and AI.
Data Management Platforms
A DMP is defined by Martech Advisor as a system that "mainly uses second and third-party non-PII data such as cookies, IP addresses, and device IDs. DMPs don't rely much on first-party data." While DMPs and their anonymity can be used in ad campaigns when it comes to stitching together activities across your entire ecosystem, they fall short of what a CDP can provide.
Best Practices
In today's experience-driven, digital world your customers demand that you know who they are and how they have interacted with your brand, regardless of the device they are on. Your customers are not comparing their experience with your brand to your competitors but to their last best experience — think Amazon, Netflix or Apple. Every interaction with your brand must be personal and purposeful. 
That's why a single system or even platform ecosystem like you see from Salesforce, Microsoft and Oracle, with many great customer-facing products, most likely won't solve all of your customer relationship challenges. As you see in the graphic below all of these systems (client-side data, server-side data and offline data) need to flow into your centralized customer record, which is where a CDP shines.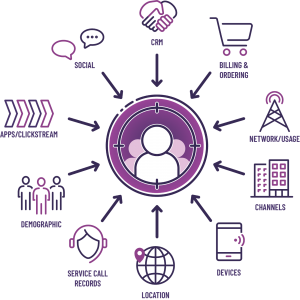 Too often leaders try to make good systems attempt to achieve something they weren't designed for — like making a CRM try to be a CDP. And while you can hammer a nail with a screwdriver or try to teach a rabbit to swim, they will never be the best solution. In the end, attempting to do so might actually cause more harm than good.
We've found that the best way to aggregate this data is by using a customer data platform that uses client-side tagging and server-side integrations to bring your customer interactions into a centralized system where a master customer record is created. From there you can build out segments that can be activated dynamically in campaigns as well as provide a dashboard to view key units that interact with customers — namely marketing, sales and finance. 
This also frees up your users to focus on the single platform where they spend most of their time while taking advantage of this centralized customer view within that platform. It also frees up your technology resources to focus on projects that yield a competitive advantage for your firm — not trying to write code and logic to bring data sets together, clean that data and then operationalize it in direct integrations with customer-facing applications via ETL (extract, transform and load) processes using APIs.
While technical expertise is needed to set up your strategy, Zirous, a technology data and insights company established by leading communications, IT and email experts, is here to help you every step of the way. Let us help you focus on driving your business forward and we'll help you with setting up the infrastructure you need to be successful. Contact us today to learn more.