Story Highlights
Brands must increase personalized customer experiences through digital channels as they become a larger driver of purchase decisions. 

The foundation for personalization at scale begins at the data unification level

The ability to stream consumer information real-time to digital and human touchpoints with the customer can be a competitive advantage in the market. 
Take a second to think about the best customer experience you've ever had. 
Whether it was making a large purchase like buying a car or something smaller like eating at a restaurant, there are a few key things that likely happened to make it so memorable. First of all, the individual selling you the product connected with you on a personal level, building trust. Second, that person likely exceeded any expectations you had going in. Finally, if anything went wrong during the process, regardless of fault, the issue was fixed and your service provider went above and beyond to make your experience wonderful.
As we move into an increasingly digital world, early customer journey sales connections and e-commerce sales are frequently generated by email, online ads or on your website. Even though salespeople are often removed from the equation, the things that exemplified your best personalized customer experience still matter. In fact, just a few years ago Accenture estimated that U.S. organizations lost three-quarters of a trillion dollars per year, with over 40% of consumers switching companies due to poor personalization and lack of trust.
Have you ever received an email with irrelevant content? Been forced to endure a poor e-commerce experience while attempting to purchase a product? Attempted a self-service resolution to a problem, only to be forced to jump through numerous hoops? Then that statistic likely doesn't surprise you.
And while getting personalization right isn't easy, investments do pay off and can be a competitive advantage for your company. A study conducted by Monetate in 2019 found:
93% of companies with an "advanced personalization strategy saw revenue growth as opposed to 45% without a personalization strategy saw equivalent growth."

Companies with a return on investment (ROI) of 2X or more said they spent at least 20% of their marketing budget on personalization.

Brands with the highest ROI (3X or higher) focused on loyalty as their top key performance indicator (KPI).
In working with clients, we've found that nearly all marketers believe in the concept of personalization. However, many struggle to execute on these initiatives because they lack data on consumers or lack resources to create the additional content for personalization. We found that the firms who do personalization best follow these rules.
Democratization of Data
Relevant customer and account data should be aggregated from core systems to create unified master records for accounts (companies) and contacts (people). The first step is to define data sources, which could be systems like CRM, marketing automation, event, webinar, e-commerce, point-of-sale (POS), financial systems and internal customer platforms. These can be stored in a customer data warehouse like a data lake or a customer data platform (see Figure 1).
In the data repository, rules are applied to resolve conflicts in data differences between systems. This creates the most up-to-date profile on a contact or account. These sources must then be standardized via a common data layer that maps data across different platforms to enable the creation of a centralized or 360-degree view of a prospect.
Fig. 1: A Customer Data Platform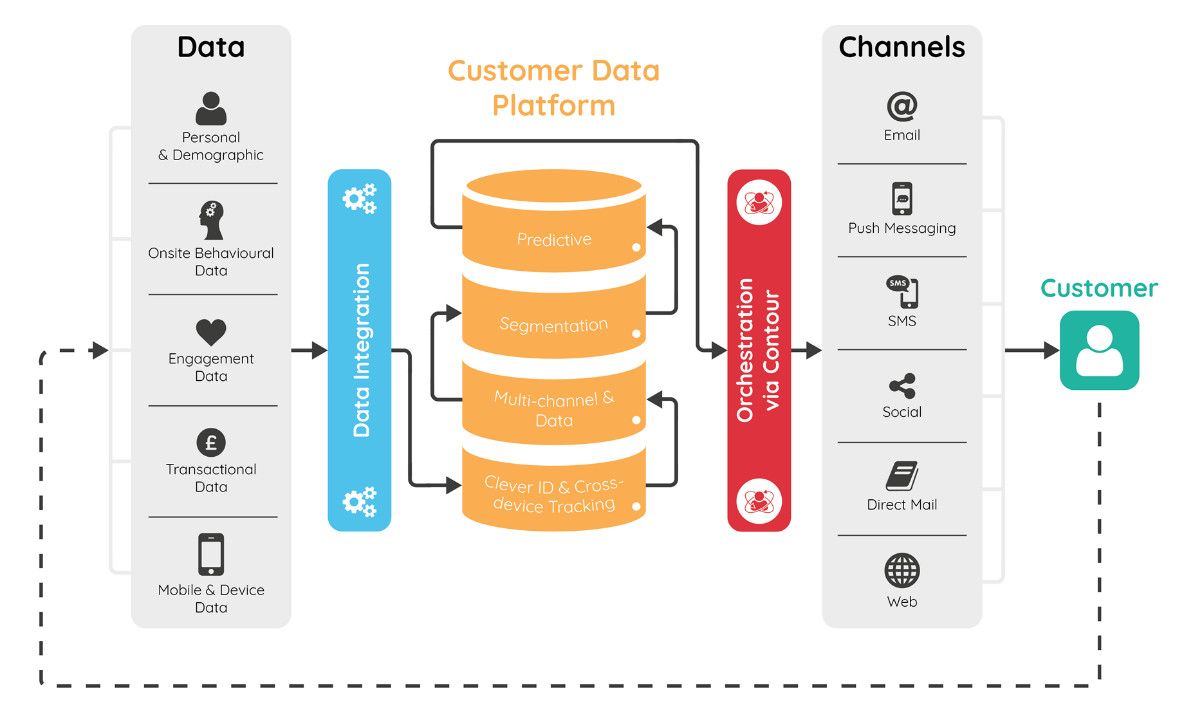 Source: Email Vendor Selection
Some may worry about complying with data privacy laws, like GDPR or CCPA. However, these rules should be built into your centralized data management system to control what data can be passed along and what needs to be held back based on customer consent. Knowing where your data comes from and how it is transformed should actually help — not hinder — compliance with various privacy vendors.
There will always be a balance between data access and security. However, if it's done right, a balance can be struck that moves your organization forward in a compliant fashion.
Real-Time Streaming Capabilities
Now that your data is aggregated and standardized from relevant sources, you need the ability to take action on this insight. The first use case for this is providing front-line points of contact with a relevant view of their customers. This might be a customer dashboard for your customer service or sales team to see rollup activities of that user or account.
It is critical for your marketing team to use this data in campaigns. Use cases might be sending an email to customers who abandon an online purchase during the checkout process or retargeting campaigns that send relevant content to visitors of specific pages (e.g., email for known users and paid search or paid social ads for unknown users).
Another key differentiator is using this data to apply learning and insight through analysis. One example might be personalizing web pages for customers based on what you know about them, such as where they live or products of interest. A second example might be testing pages to optimize customer experiences, such as finding the best purchase flow, page design or on-page content.
Track Results Against Strategic Objectives
As legendary management consultant Peter Drucker once said, "What gets measured, gets improved." A recent study by Google found that 89% of leading marketers use strategic metrics like gross revenue, market share or customer lifetime value to measure the effectiveness of their campaigns.
This is incredibly important when it comes to personalization at scale, because too often data isn't used to prove conjecture. There should be core KPIs that govern personalization and tests to verify if changes move results in a positive direction. Some metrics that can be useful in an e-commerce setting include conversion rate, average order value and lifetime value of a customer.
In a more traditional B2B channel it might be the page conversion rate (form completes divided by unique page visits), marketing qualified leads created, sales accepted leads and the lead-to-opportunity conversion rate.
When looking at spend you might look to increase the return on ad spend, reduce the cost per conversion and increase the return on investment (ad spend + management fees/resource time) in addition to the B2C and B2B metrics above.
Finally, you must have a solid tracking mechanism and attribution methods in place as most journeys will include multiple customer touch points so each activity is appropriately given credit for the sale.
It's a lot to work through, but achieving personalized customer experiences at scale is possible. While it may not happen overnight, with diligence, and perhaps some helpful guidance, personalization will pay dividends for your company. Zirous, a technology data and insights company established by leading communications, IT and sales experts, is here to help you every step of the way.
We speak the language of business and technology to create customer-centric organizations. Contact us today to learn more.