How Customer Data Platforms Are Helping Marketers Adapt to Change
2021 State of the CDP Report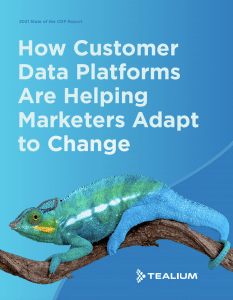 A Year of Adjustments for Marketers
The rapid shift to digital channels during COVID-19 grabbed headlines throughout 2020. But for marketers, it was only one change among many in an eventful year.
Three events that changed marketing in 2020
Third-party cookie loss: A third major internet browser ended support for third-party cookies, eliminating a popular tool for accurately attributing ad spend and market.
New data privacy rules: The passage of the California Privacy Rights Act (CPRA) in November left marketers with more and stricter restrictions to address.
Budget cuts: Many marketers saw budgets reduced due to a sudden economic recession, forcing them to do more with less.
To understand how marketers have responded to these changes and what that means for the future of CDPs in 2021, Tealium surveyed 300 U.S. marketers in the travel, hospitality, finance, retail and healthcare industries in November 2020 as a follow-up to last year's State of the CDP Report.
Our research found that the challenges of 2020 have solidified the CDP's position in the center of organizations' marketing stacks. In this report, we analyze what our findings mean for the future of CDPs — and how marketers can leverage this powerful technology in 2021 and beyond. Download the report.