Does your martech stack fuel growth?
Catalyst is your comprehensive assessment to lay the foundation of a successful marketing technology strategy.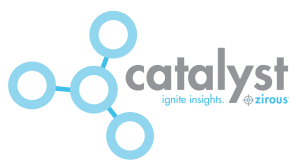 Catalyst is for any organization that:
Knows their business decisions need to be driven by customer insights

Strives to disrupt their industry

Believes

humanizing the digital revolution through integrated customer journeys can be a key differentiator or your business

 Recognizes that a

unified view of your custome

r data

can lead to better outcomes for your customers and business

Wants to accelerate their path to effective and efficient return on investment
What can we expect?
Catalyst will launch the permeation of a customer-driven culture throughout every level and department of your organization. You can expect for the details to matter, but not at the expense of the big picture. You can expect insightful questions and discussions from seasoned professionals. Your business leaders, IT ninjas, and tactical warriors will learn from each other as we holistically study your processes.  We'll make sure the right brains are in the room at the right times.
What do we get?
As a takeaway from Catalyst, we'll develop a Unified Strategy encompassing people, processes and systems that will account for your current state and future goals, and we'll lay out the roadmap to get you started with confidence. Catalyst is the strategic foundation to make marketing technology a competitive advantage for your organization.
Understand Today
Review current processes and technologies; align initiatives with corporate goals and objectives.
Identify Missing Links
Diagnose barriers between your current state and achieving disruptor status.
Define the Course of Action
Our tailored Unified Marketing Technology Strategy will set you on a sustainable path to excellence.
What's next?
Our vision for your company is exciting, but it may also seem a little overwhelming. Don't worry! Our client relationships are phase- and project-based. Coming out of Catalyst, we'll provide the details around our suggested first engagement to provide a quick win with tangible impact. Then we'll see where we go! We help our clients grow their value, maturity, and complexity for as long as it makes sense for them. Over 74% of our engagements from this past year have already renewed or extended.