Accessibility Audits
Implementing Accessibility Solutions
An inaccessible website can not only put you at legal risk but decreases your customer base and business opportunities. With web accessibility lawsuits on the rise, your company is at risk. Join the wave of businesses that are web compliant, are mitigating legal distress, and are reaching their online business potential.
What is an Accessibility Audit?
Accessibility is the practice of making your website accessible to as many users as possible.To ensure this, an accessibility audit will evaluate how well your website accommodates the needs of people with disabilities.
Custom Accessibility Solutions:
Our certified experts will work with your company to provide custom accessibility solutions that cater to your specific website needs. Each audit package includes:
A list of specific violated WCAG criteria, site violations, and

 

inaccessible features.
Common problem elements that occur throughout your website.
Recommendations on implementing accessible solutions.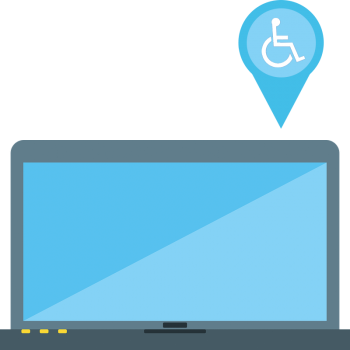 Ensure full compliance with a comprehensive accessibility solution.
Hiring a consultant on accessibility updates offers custom accessible solutions to complex and vital parts of your website. It means a more personalized approach to accessibility solutions.
Get started with a FREE Initial Assessment.
Standard
1-30 Pages
1-3 Forms
Simple Forms
Basic Navigation
Large
31-51 Pages
4-10 Forms
Simple Forms
Complex Navigation
Custom
51+ Pages
Complex Forms
Custom Views Based on Access Level
Interactive Elements
Your personalized approach to accessibility is here!