The digital marketing landscape is a crazy one. If you haven't seen the MarTech 5,000 for 2018, check it out. There are, in fact, 6,829 digital marketing platforms in the graphic, but I suppose that doesn't roll off the tongue quite as nicely as 5,000.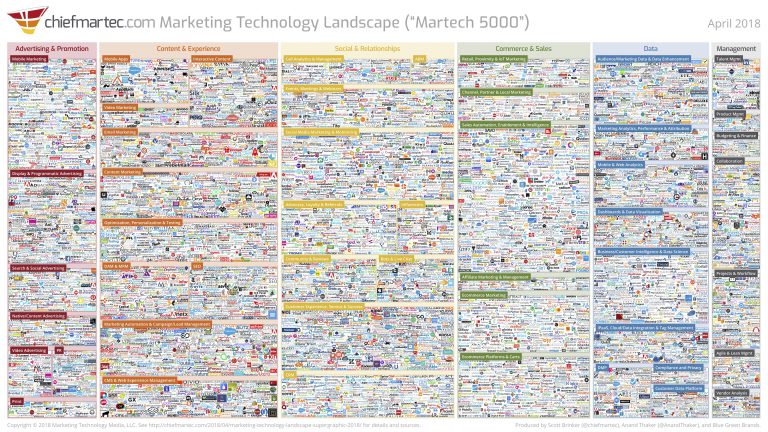 So, in a sea of nearly seven thousand tools, how can a marketer possibly decide what to use? Google is a good place to start. (And no, I don't mean to do a Google search for digital marketing tools.) While the Google platform doesn't offer a tool for everything, it offers a great selection of tools to cover some of the most essential pieces of the puzzle, which I like to call the "Google marketing toolkit." And the best part: each of them is free to use! Let's take a look at a few.
Google Analytics

Google Analytics is all about – you guessed it – analytics. It just might be the most recognizable tool from Google and is sort of the hub of the Google marketing toolkit. (I also mention this tool first because analytics are important!) But what exactly is it all about? The end goal is to improve customer experience and, therefore, your overall business. GA gives you the digital analytics tools you need to analyze data from all touchpoints in one place, for a deeper understanding of the customer experience. You can then share the insights that matter with your whole organization.
Our team deals heavily in Google Analytics, and we recommend using it as a solid one true source of data for your organization. After all, Google seems to be ruling the internet right now, right? For an overview of GA, go here. Google also offers comprehensive training here if you're new to the system or need some brushing up.
Google Tag Manager

Another great way to sharpen your marketing analytics practice is to utilize Google Tag Manager. Tag Manager will allow you to quickly and easily deploy Google and third-party tags on your site to track a multitude of items.
The Universal Analytics tag is step one, which deploys your Google Analytics tracking code on every page of your website – even those you create after deploying the tag. Check out Google's instructions on how to do this if needed.
From there, you can set up tags that track things like button clicks, file downloads, scroll depths, etc. This information can be valuable on its own, but it can be even more valuable when pieced together with other tag information or practices. For instance, a travel agency might deploy tags to track which customers are interested certain type of trips (hiking, camping, cruises, etc.) to specific locations. They can then use this information later to launch remarketing campaigns to those who did not purchase.
Tag Manager is an extremely useful – but extremely robust – platform. Google offers an overview of the program along with some training videos and tutorials. Consulting an analytics expert could be very beneficial when getting started with Tag Manager.
Google AdWords

Outside the direct realm of analytics, AdWords is a great online advertising tool. It's another piece of the Google marketing toolkit that many recognize and may consider essential. Google offers a variety of ad types through AdWords, including search, display, video, mobile, and more. Different ad types are better for different businesses and goals. For instance, a plumber might use search. Her ads need to share information in a quick and easy way, and her business isn't very visual. A floral shop owner might want to use display. He wants to show off his beautiful bouquets, after all!
The Google AdWords platform itself is free to use. However, running ads will cost money. Fortunately, you can set your budget and pay only when you get clicks or conversions, depending on the pricing model you choose. You can also set daily and campaign maximums. This ensures that even if your ad blows up and you start getting tons of clicks, you won't blow through thousands of dollars accidentally.
Once you link your AdWords and Analytics accounts, all of your AdWords data will carry over into GA. This means that for a single campaign, you can view organic and paid information side by side.
For more information and ideas, you can view Google's AdWords overview and/or view some of their training videos, broken up by the ad types mentioned above: search, video, etc. Also check out the AdWords Keyword Planner to help you determine what keywords you can use, how much they cost, and competition.
Google Optimize

One of the more hidden gems in the Google marketing toolkit is Google Optimize. Optimize is a great way to, well, optimize your website. Rather than starting from scratch, you can improve what you already have. You can connect this tool with your site to see how you change details of pages on your site for the better. This could be using different images, moving buttons, changing colors, changing copy, etc. The list goes on.
Optimize actually allows you to test these variables against each other for the most accurate data possible – collected from your very own audience.
Two types of testing are possible in Google Optimize: A/B testing and multivariate testing. A/B testing is a great starting point if this process is new to you. In A/B testing, you change one thing about a page, let's say a button location, and Google Optimize will run both versions of your website simultaneously. The default proportion is half and half. However, if it's a change you're a little nervous about, you can tell Google to offer the "new" version to a smaller percentage of visitors. Then, it will collect the data from your site users to give you insights into which option performed better for you.
Multivariate testing is similar, but it compares multiple variables at one time. It analyzes these variables in chunks to see how different combinations perform best. This really takes website optimization to the next level, and because of this, it also requires a more developed strategy than a simple A/B test.
Google offers a broader overview and information on getting started with Optimize here.
The Google Marketing Toolkit is Vast
These are just the beginning of Google's marketing offerings. It's no surprise that a robust company like Google would offer a robust array of solutions. To name a few more (still not an exhaustive list!), I encourage you to also check out:
Despite the fact that there are so many – yes, nearly 7,000 – digital marketing tools out there, keep Google in mind. The Google marketing toolkit programs are well connected both internally and externally, there are great online resources if  you get stuck, and the programs are free to operate. Consult with an analytics expert if you're not sure how to get started.