The entire field of higher education based marketing really comes down to one goal. One thing that the whole industry agrees on. We need more students!
This need for increased enrollment numbers has created a wide array of different marketing strategies and, to put it bluntly, some are just plain bad.
Marketing Approach Pitfalls
"Let's keep throwing money at the problem. It will just go away right?"
"It will probably do fine right? No need to monitor anything."
"They did it this way. I'm sure they know what they're doing."
It is likely that you have seen these approaches in the past, but don't be discouraged because these pitfalls are incredibly common. Less than 20% of marketers actually track all their data to drive improvement. I guess the strict competition based marketing tactic seem a little less appetizing after seeing how other universities operate.
The Solution
The answer to this enrollment problem and the way to sidestep all these pitfalls is one simple word:
Data
It sounds so obvious in hindsight, but according to a Ebiquity/CMO Council study 70% of marketers rank their handling of data advancements at "fairly" well or worse. I'm sure you've seen campaigns flounder because the data simply wasn't there.
Now that I have your attention, we can talk about how to get started using this data.
Which Metrics Are Important
It is important to understand which metrics represent the key performance factors that you would like to track on your way down the marketing funnel to the end goal of enrollment. It is important to use these Key Performance Indicators (KPI) instead of baseless metrics. Use metrics that actually matter to your team including:
Application Submissions

Contact us Form Completions

PDF Downloads

External Site Clicks

Time on Site

Bounce Rate
These metrics directly relate to your goals. By basing your marketing around this data, you can improve your marketing content and ultimately increase enrollment.
A word of caution, data in and of itself is not particularly valuable. You have to get the right metrics.
A major problem facing universities is that they think they are successfully tracking the correct metrics and base all of their decisions on these ambiguous numbers. They pull countless CSV files on page views, sessions, unique visitors, or other vanity metrics. The truth is that these metrics likely are not very useful. The chart below shows why this is the case.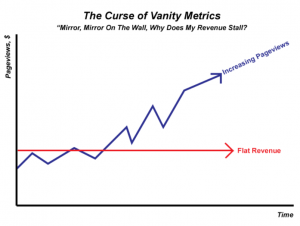 Source: Kissmetrics
You can see that in this example the increase to pageviews does not directly correlate with revenue. Seems like a bad way to measure success.
To stop this from happening, make sure that your university is looking out for these vanity metrics and focus on the metrics that provide value. The metrics that match up with your KPIs.
What Can I Track?
With data through marketing analytics you can learn how to optimize your marketing efforts in order to increase student enrollment. The range of possible data is extraordinary. You can track aspects of your site that you may not have known were possible:

Application Submissions

Page Scroll Depth

Form Submissions

PDF Downloads

Internal Link Clicks

External Link Clicks

Button Hovers

Time on Site

Time on Page

Traffic Source

Cross Domain Traffic

Affiliate Sites



Additional Benefits
All of this data gives you the power as a marketer to increase the performance on your site and drive your university to succeed. It allows for you to meet those imposing enrollment goals.
On top of benefiting your school, it protects you as a marketer. Marketing analytics data gives you something to run up the chain of command. It gived proof to your higher ups that all of your hard work is paying off. Let the data do the talking.
Marketing analytics is also a matter of self preservation. It pulls away from intuition based marketing. Now you don't have to feel like your marketing is going well; you will know it for a fact. With this data in your pocket you will have the ability to fight back when marketing budget cut conversations inevitably come to the table. You will be able to show that marketing is not a liability; it is an asset.
What The Data Can Be Used For
Now that we have the correct data based around our KPIs, we are able to improve the way we do marketing. This data allows you to accurately compare marketing strategies and tailor ads to meet your desired results. It allows you to change your Call to Actions (CTAs) to shape the specific goals that you want to meet. It gives you the ability to understand the implications of changes to your landing pages. It allows you to fix funnel inefficiencies and create alerts. It allows you to find and fix dirty data. The applications are practically endless.
Why The Data Is Useful
Overall the data empowers you to do all of this. It allows you to improve, fix, and experiment with your marketing resulting in a stronger marketing program overall. You can increase your smaller KPIs such as PDF downloads and move towards the end goal of increasing enrollment. Now you won't have to guess if your campaigns are succeeding. You won't have to rely on generic, ambiguous metrics such as pageviews or sessions. You can work with what really matters to get the most out of your marketing data and succeed as an educator.
And if you think you are already doing everything, look at how much you are currently spending on marketing analytics. If it is under 20% of your marketing budget you are likely not doing enough. Spending on data-driven marketing is about 20% of all marketing spend for a total of $1.3 trillion a year in the United States.
Increase your enrollment. Invest time and budget in marketing analytics. If you need a place to start, Zirous analytics offers marketing analytics services tailored for the education industry. We know understanding your students can be hard, but collecting and understanding your marketing data doesn't have to be. Find out more about how you can use marketing analytics data to increase your enrollment here.